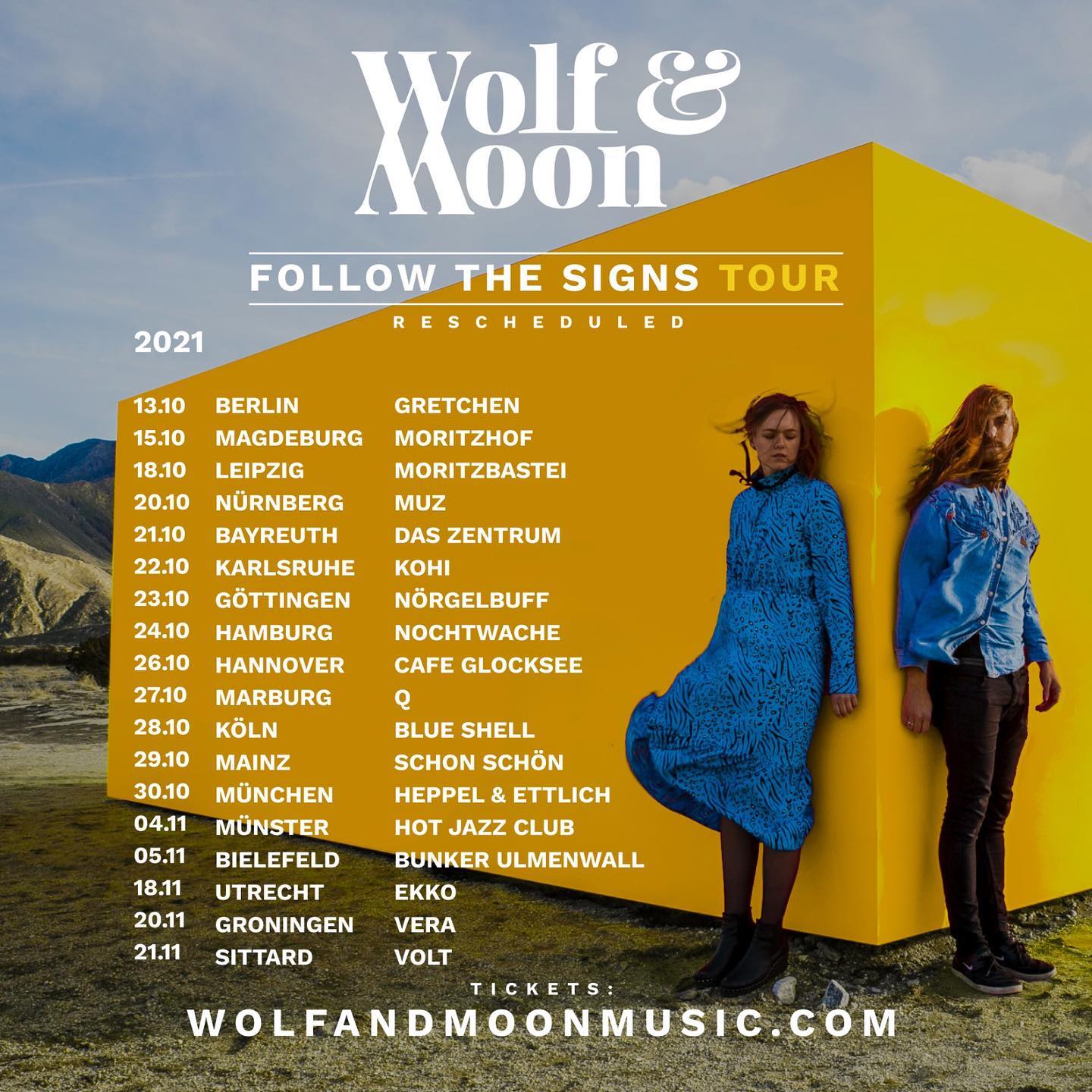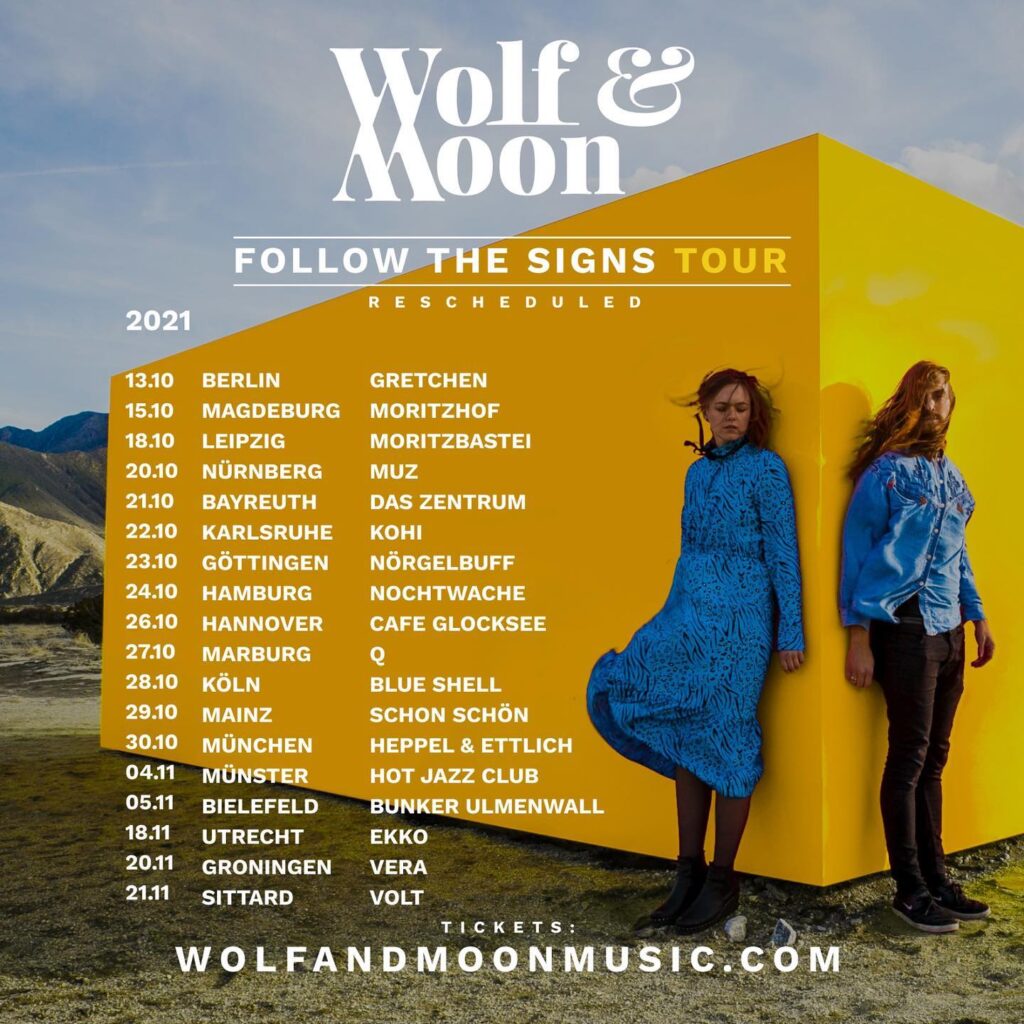 To release a record in November 2020 is not that easy. In other words: it's super hard. Especially when you're Wolf & Moon and tour life is a main part of your existence as musician. Almost one year later – in October and November 2021 – the two can finally present their second work "Follow The Signs" on the stages in Germany and the Netherlands.
Wolf & Moon are modern-day storytelling nomads who have been causing quite a scene since their debüt in 2019. 150 concerts across four continents and elevent countries, included performances at the iconic SXSW Festival, Live at Heart, Reeperbahn, ESNS or live on TV in front of over a million as well as streaming playlists, airplay, great reviews and a nomination for the VUT Indie Awards for the Best Newcomer.
2019 was a great year for Wolf & Moon. Just released their debut and whilst touring the world, Wolf & Moon visited Stockholm, where they met multi-platinum, Grammy nominated producer John Andersson. After working together musically, they instantly grew a friendship, leading to John producing their upcoming album "Follow the Signs", which was released in November 2020. Wolf & Moon's music lives of the dichotomy of their voices and marries dreamy indie folk with electronic elements.
Of course, the pandemic hit the two Berlin based artists hardest. In February 2020 they first had to interrupt their Italy tour, then finally they had to cancel it completely. Back at home in Berlin, it quickly became clear that more than 50 concerts and festivals would fall victim over the next few months. Stef developed her own podcast with "From Artist To Artist", Dennis devoted himself increasingly to his second passion, design and film (as you can see in their Wes Anderson inspired DIY music videos for "A Tape Called Life" and "While We Ride"). And last but not least, the two of them worked on upcoming music in their own studio.
Yes, a bit late, but with the new album "Follow The Signs" in their luggage, Wolf & Moon are certainly worth keeping an eye on.
13.10.2021 – Berlin – Gretchen⠀⠀⠀⠀⠀⠀⠀⠀⠀
15.10.2021 – Magdeburg – Moritzhof⠀⠀⠀⠀⠀⠀⠀⠀⠀
18.10.2021 – Leipzig – Moritzbastei⠀⠀⠀⠀⠀⠀⠀⠀⠀
20.10.2021 – Nürnberg – Musikzentrale⠀⠀⠀⠀⠀⠀⠀⠀⠀
21.10.2021 – Bayreuth – Das Zentrum⠀⠀⠀⠀⠀⠀⠀⠀
22.10.2021 – Karlsruhe – Kohi⠀⠀⠀⠀⠀⠀⠀⠀⠀
23.10.2021 – Göttingen – Nörgelbuff⠀⠀⠀⠀⠀⠀⠀⠀
24.10.2021 – Hamburg – Nochtspeicher Nochtwache⠀⠀⠀⠀⠀⠀⠀⠀⠀
26.10.2021 – Hannover – Cafe Glocksee⠀⠀⠀⠀⠀⠀⠀⠀⠀
27.10.2021 – Marburg – Q⠀⠀⠀⠀⠀⠀⠀⠀⠀
28.10.2021 – Köln – Blue Shell Club⠀⠀⠀⠀⠀⠀⠀⠀⠀
29.10.2021 – Mainz – Kulturclub Schon Schön⠀⠀⠀⠀⠀⠀⠀⠀⠀
30.10.2021 – München – Heppel Ettich⠀⠀⠀⠀⠀⠀⠀⠀⠀
03.11.2021 – Kassel – Kulturzentrum Schlachthof⠀⠀⠀⠀⠀⠀⠀⠀⠀
04.11.2021 – Münster – Hot Jazz Club⠀⠀⠀⠀⠀⠀⠀⠀⠀
05.11.2021 – Bielefeld – Bunker Ulmenwall⠀⠀⠀⠀⠀⠀⠀⠀⠀⠀⠀⠀⠀⠀⠀⠀⠀⠀
18.11.2021 – Utrecht (NL) – Ekko⠀⠀⠀⠀⠀⠀⠀⠀
20.11.2021 – Groningen (NL) – Vera
21.11.2021 – Sittard (NL) – Poppodium Volt